Cream Cheese Log With Sesame and Soy
alligirl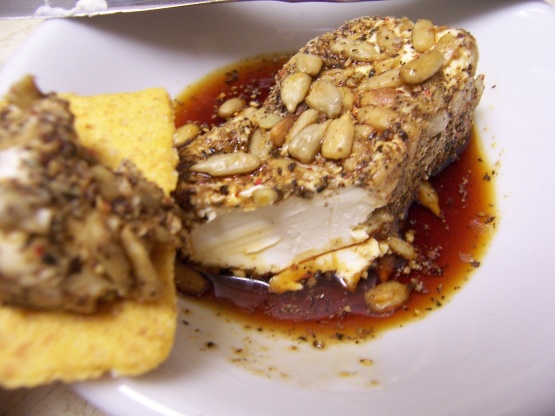 This is a tasty and SIMPLE appetizer, a recipe from my friend Rocio (who got it from one of her friends). Asian flare and a crowd pleaser and takes 5 minutes to make it! You'll need some large wheat thins to go along with this. P.S. Feel free to whisk in 1/2 tsp of fresh grated ginger into the soy sauce before pouring it over the cheese log!

Perhaps I would have enjoyed this more with the ginger; I will have to try it that way, next time. The flavors are unique; I've never tasted anything like it before. I did use Big Wheat Thins, but may try it on rice crackers, too. And I may even try it with teriyaki, instead of soy, for a lighter flavor. I really enjoyed the crunch of the sunflower seeds. Thanks for sharing, JanuaryBride! Made for ZWT.
Take brick of cream cheese and place on wax paper. Form it into a log about 6 inches long or so (using the wax paper so your hands don't get yucky.
On a plate, put mix the seeds and pepper. Place the cream cheese on the plate and roll in the seeds/pepper. You may have to pick up the seeds/pepper and place on the roll to get it totally covered. (You may need more seed/pepper mixture depending on how long you make your roll).
Place the roll on a pretty, small platter. Pour soy sauce over top. You'll need a small knife for serving and it tastes best on large wheat thins.