Cranberry Wild Rice Pilaf
Pneuma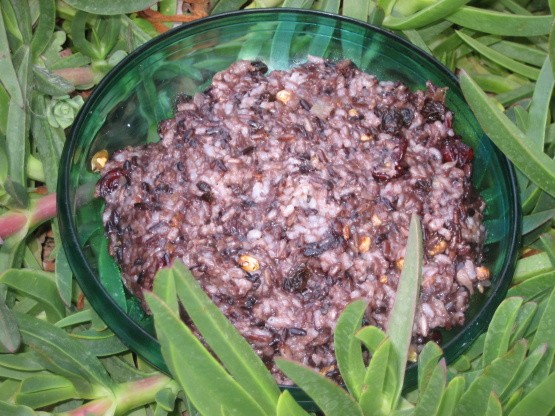 A lovely long grain and wild rice pilaf with touches of fruits and nuts. Perfect for serving with chicken and turkey. Different from the usual stuffings. Cook time is concurrent.

What a GREAT recipe. Perfect accompaniment to a wintry meal; earthy, nutty, spicy with a hint of sweetness from the fruit. Made it for a dinner party last night and my guests fought for the leftovers. Prepared it a little in advance so I wouldn't be stressed once guests arrived and blended the two rices with the pine nuts at the last minute. Actually tasted better after the flavors had a chance to incorporate a little.
In a large saucepan, bring 6 cups of the broth and 6 cups of water to a boil; add wild rice and return to a boil.
Reduce heat and simmer uncovered, stirring occasionally, until rice is tender but firm, about 35-40 minutes.
In another saucepan, saute the onions in the butter until tender, about 10-12 minutes.
Add the spices and stir until aromatic, then add the remaining broth and 3 cups of water, the cranberries, raisins, and orange zest.
Season with salt and pepper, bring to a boil, then add the white rice and reduce heat to low, cover, and cook until rice is tender, about 20 minutes.
Drain the wild rice.
Remove the bay leaves from the white rice and discard.
Mix together both rices and stir in the pine nuts; adjust seasonings if necessary.
Serve hot.