Cranberry Chocolate Orange Loaves
Rachchow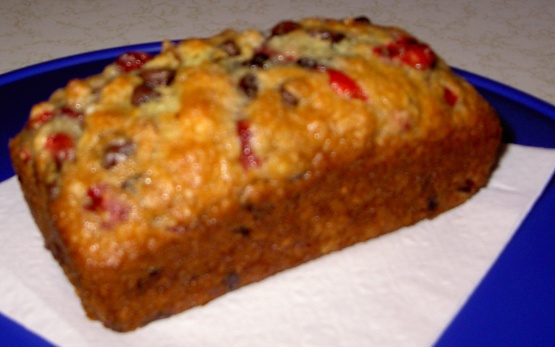 I like to make these in mini loaf pans--wrap them up in some cellophane with ribbon and they make a perfect Christmas gift! Moist and addictive.

Very tasty! But I would cut the sugar by at least 1/2cup next time - a bit too sweet for my taste. I used pecans instead of walnuts, 1/2 five alive juice (ran out of orang juice, but it gave it a nice flavour) and whole wheat flour. Took a bit longer to cook - had to leave it in for an additional 15 mins.
Preheat oven to 350°F.
Lightly grease 6 mini loaf pans (6x3-inch) or 2 bundt pans (10-inch).
Combine cranberries and ½ cup sugar; set aside.
In large bowl, combine flour, 1 ½ cups sugar, baking powder, baking soda, and salt.
Using a fork, beat eggs, orange juice, oil, and orange rind together. Add to dry ingredients, stirring just until moistened. Fold in cranberry mixture, chocolate chips, and nuts.
Bake for 35-45 minutes or until toothpick inserted in center comes out clean. Cool 10 minutes in pan before removing to wire rack. For ultimate freshness, keep refrigerated in a covered container or freeze.