Cranberry Cherry Pinwheel Christmas Cookies
KK7707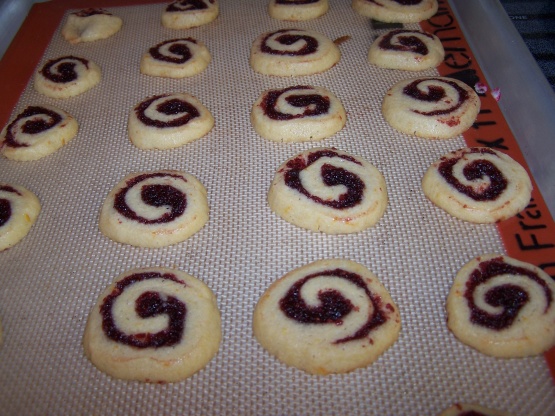 This makes a pretty and popular Christmas cookie. The filling came from a recipe in a newspaper at least 16 years ago, but to get the cookie I dreamed of, I tried the dough from many pinwheel cookie recipes before finally settling on this one about five years ago. Keep chilling the dough if it gets too soft while working with it.**A reviewer had trouble getting the pinwheel effect, so I have altered this recipe and ingredients to make the dough rectangle a little bigger. Also, I always bake my cookies on a Silpat so sticking is never an issue. I find I get more consistent browning and fewer overdone edges when using a Silpat, too.

The photo shows a lack of sharp definition, is that because of the cherry jelly used in the 'filling'. I would prefer a neater looking pinwheel effect, especially for a cookie exchange or display on a cookie tray.
Make filling: Combine cranberries, cherry preserves and cinnamon with water in a medium saucepan. Simmer, stirring frequently, for 5-8 minutes, or until mixture softens and most of the liquid is absorbed. If it seems too dry, stir in 1 tablespoon water. Transfer to a food processor and process until smooth. Refrigerate until cool. (Filling may be stored up to 48 hours. Bring to room temperature and stir well before using.).
Make dough:.
Beat together butter and sugar with an electric mixer until light and fluffy, then beat in eggs, orange zest and vanilla. Sift flour, baking powder and salt into egg mixture and beat until combined well. Chill one hour.
Assemble rolls:.
Divide dough in half and roll out each piece between sheets of wax paper into a roughly 8 x 12 inch rectangle. Remove top sheet of wax paper (if it sticks too much, refrigerate dough for a few minutes to firm it up).
Divide filling between rectangles, spreading it very thin in an even layer (you may have a little excess filling). Tightly roll up each rectangle jelly-roll fashion, beginning with a long side and using the wax paper as an aid, to form a 12 inch long log. Wrap rolls in wax paper and smooth out the logs by running your hands over them to make them as evenly sized as possible. Be gentle but firm. Wrap in foil and chill until firm, about 2 hours.
Preheat oven to 350°F.
Working with one roll at a time, keeping remaining roll chilled, cut rolls crosswise into 1/8 - 1/4 inch slices. Arrange slices 1 inch apart on ungreased cookie sheets, shaping the slices into neater rounds if necessary. Bake in the middle of the oven until pale golden and set, 8-12 minutes. Let stand on cookie sheet for about a minute to set. Transfer warm cookies to racks to cool.
Passive cooking time includes chilling and baking the entire batch.