Cranberry-Almond Biscotti
Annacia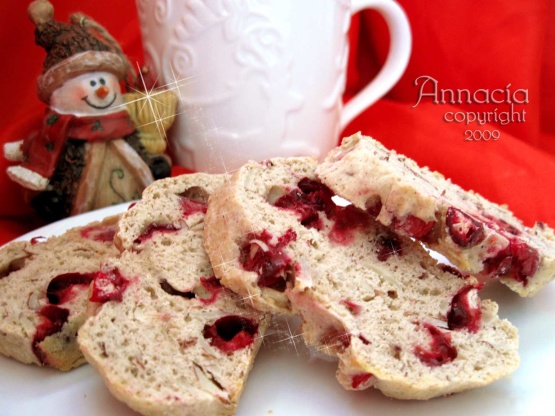 Great for the holiday cookie tray!

Lovely biscotti. Aside from replacing the sugar with Splenda I made them exactly by the recipe. They are more moist and softer than most biscotti and have a flavor that makes you keep taking "Just one more!". Great little tang with just the right amount of sweetness to balance to balance it without being too sweet. By all means try these with a cup of vanilla coffee. They look beautiful for Christmas too. :D
Preheat oven to 325ºF.
Combine dry ingredients in a medium mixing bowl.
Beat eggs, egg whites, and vanilla in a separate bowl until frothy.
Add egg mixture to dry ingredients, mixing just until moist, using an electric mixer on medium speed.
Add almonds and cranberries; mix thoroughly.
On a floured surface, divide batter in half and pat each half into a log about 14 inches long and 1 1/2 inches wide.
Place on a cookie sheet and bake in oven for 30 minutes.
Cool on wire rack.
Reduce oven temperature to 300ºF.
Cut biscotti into 1/2 inch slices. Stand upright on cookie sheet and bake another 20 minutes.
Let cool and store in a loosely covered container.