Crafty Bergy's One Pan Beef Pasta
Bergy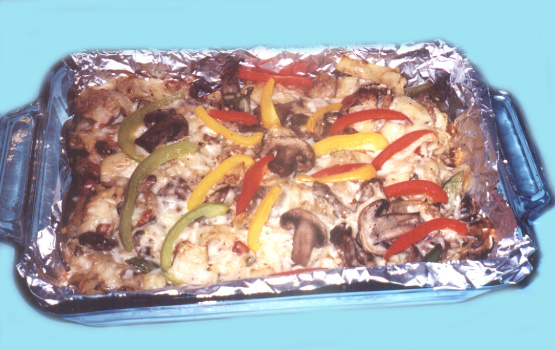 This was a Kraft recipe but in their recipe they boiled the beef & Pasta together with the soup and I didn't like the sound of that so I have changed it around completely and added some ingredients. You may either serve it right from the pan or make ahead and bake it like a casserole. I love do aheaders! This takes apprx 10 minutes to prepare and 20 minutes to cook if you serve it right from the pan - the times on the recipe reflect the time if you are serving it as a casserole. Serve with a green salad. Freezes well. I like to decorate it with few strips of colored peppers but that's optional

I really enjoy one pot dishes that are so quick and so good too. This was all that and more. I used beef undercut the tenderest meat we get, blanched French beans (not sure what snap pea is) and rich mushroom soup in a packet (Knorr's)and finished in the oven using cheddar cheese though instead of the Parmesan. We really enjoyed the meal. Will be making this in future too. Thanks, Fay
3

cups cooked pasta (your choice I prefer noodles, well drained)

1

lb beef sirloin, cut into stir fry strips (or any othe meat cut of your choice but be sure it will be tender)

2

cups sliced mushrooms
3⁄4 cup onion, sliced

2 -3

cloves garlic, crushed

1

can mushroom soup
1⁄2 cup water

1

tablespoon Worcestershire sauce

1 -2

hot pepper, finely chopped (optional)
salt & pepper

1

cup sugar snap pea, cut diagonally into 3 pieces
3⁄4 cup parmesan cheese, grated
In a large frypan sprayed lightly with oil brown the beef strips- use high heat apprx 5 minutes.
remove beef strips.
Turn heat to medium, Add the mushrooms and onion to the fry pay, you may need to lightly spray the pan again with oil and saute until the onions are golden and the mushrooms browned.
Add garlic saute 2 minutes Put the beef strips back in the pan, add the mushroom soup, water, peppers,Worcestershire sauce, pasta salt& Pepper.
Stir and bring it to a boil, add snow peas, stir.
If you are serving it right now add the parmesan to the pan.
Mix well& serve NB Do not mix in the cheese if you are finishing it later as a casserole If you are going to serve it as a casserole and finish it in the oven pour the mixture into a 9"x13" x3" lined with"Release" foil or lightly greased casserole dish.
Cover with foil and bake in a 350F oven for 30 minutes.
Remove foil, sprinkle on the parmesan cheese return to oven for apprx 15 minutes or until the casserole is bubbly and the cheese melted.