Cracked Pepper Cheddar Muffins
Annacia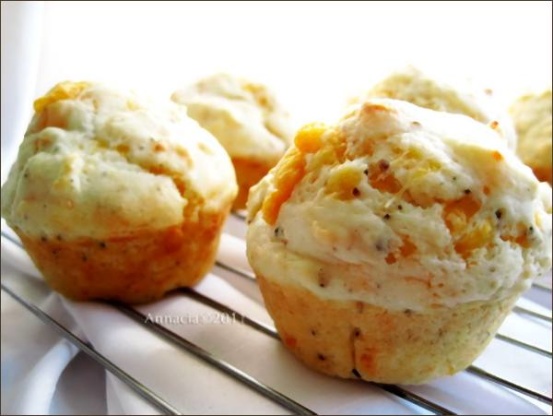 Found in Taste of Home, these sound great for a cold weather meal, maybe with soup, chili or stews. Made these to go with clam chowder and made a nice match - but after making them agree they need a 1/2 tsp. of salt and I think I'd personally (I love pepper) increase the pepper to about 3/4 tsp.

Delicious. I took the comments of other reviewers and added an extra tbsp of oil and 3/4 tsp of salt. They came out perfect except for the fact that they all leaned hard toward the front of the oven, lol. I must have one powerful convection fan since this effect isn't uncommon in my oven. The muffins are very light, moist and tender. At first I was worried that there was too much milk but letting the bowl sit for a bit while I did something else gave the flour time to absorb the liquid. The final consensus is: YUM.
In a large bowl, combine the flour sugar, baking powder and pepper. In another bowl, whisk the egg, milk and oil. Stir in dry ingredients just until moistened. Fold in cheese.
Fill greased muffin cups 2/3 full. Bake at 375°F for 25-30 minutes or until a toothpick comes out clean. Cool for 5 minutes before removing from pan to a wire rack. Serve warm.