vrvrvr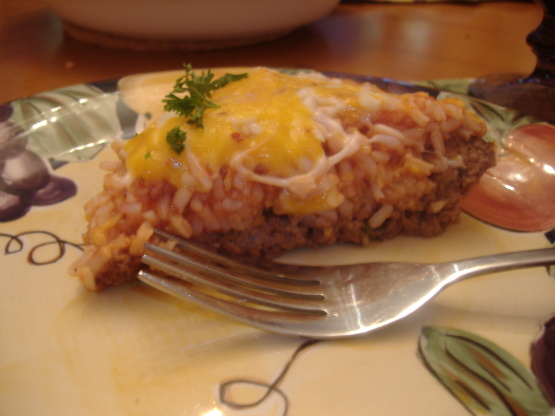 This is my old roommates recipe - we used to fix this all the time. It's a tasty, one dish dinner. The "crust" is a "meatloaf" mixture.
This is an old old recipe, My grandmother use to make this back in the late 40's early 50's , My Mom use to fix this when I was growing up in the 60's and 70's, I fix it for my family and now my Daughter makes it for her fiance. obviously it's a family favorite. The only thing different from this recipe posted here is that my grandma's recipe called for oatmeal in place of breadcrumbs.
Crust: Combine ground beef, 1/2 a can of tomato sauce, bread crumbs, onion, green pepper & spices.
Pat mixture down & up sides of a 9 inch pie plate (I use a deep dish).
Set aside.
Filling: Combine rice, all the remaining tomato sauce (1 1/2 cans), 1 cup water & 1/2 cup of cheese.
Pour on top of crust.
Cover with foil and bake at 350 for 25 minutes.
Sprinkle with rest of cheese & bake 10 -15 more minutes or.
until cheese is melted.