Cottage Cheese and Olive Turkey Wrap
mtilton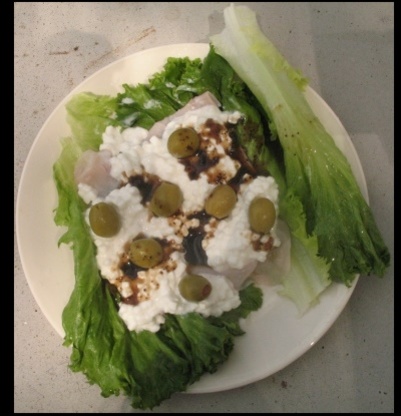 I hope you enjoy it. One note: according to the nutrition facts label on my ingredients: 2 oz. turkey --> 60 calories, 1 g fat, 0 g sat. fat 1 tbsp. vinaigrette --> 2.5 calories, 0 g fat and 0 g sat. fat 5 olives --> 25 calories, 2.5 g fat, 0 g sat. fat 1/2 cup lowfat c. cheese --> 90 calories, 2.5 g fat, 1.5 g sat. fat Things are not what they seem!
Put lettuce leaf on a plate. First, lay the turkey slice on the lettuce. Spread the cottage cheese evenly over that and top with 5 olives. Pour a tablespoon of low calorie balsamic vinaigrette over the ingredients.
Place the other lettuce leaf over the toppings and roll the "sandwich" up to contain the ingredients.
It's tasty, but a little messy. Enjoy!