Corn, Chilli and Zucchini Squares
Laka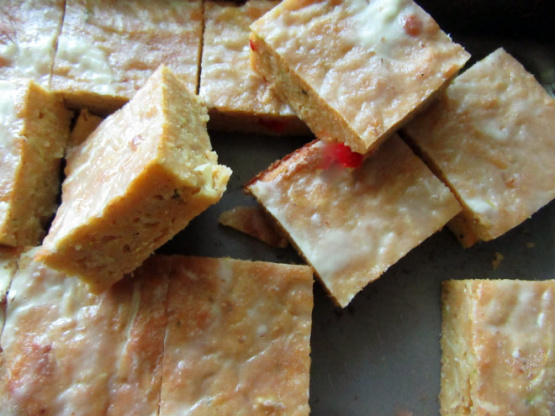 Recipe by Laka
Chili gives these easy to make savory squares special kick, while zucchinis make them extra tender.
Mix and combine egg, milk and sour cream with a hand mixer for 2 to 3 minutes.
Add corn flour, sugar, salt, pepper, chopped chili pepper and chili powder. Mix for 1 minute until smooth.
Stir in grated zucchini.
Tip the mixture into the small (20 cm x 28 cm), square baking pan, greased and sprinkled with bread crumbs. Smooth the top of the batter.
Bake in the oven at 200°C for about 30 minutes. Then take it out and cut into equal squares. Smear sour cream on top and return the pan to the oven. Continue to bake for 5 - 10 minutes until golden.
Serve warm with milk or yogurt or as a savory entree.