Corn and Two-Bean Burgers With Chipotle Ketchup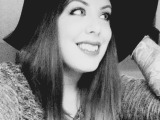 You can easily make these from scratch in the time it takes to defrost a frozen veggie burger. The sweet-smoky-spicy ketchup in this recipe is a decidedly Southwestern flavor, and also pairs quite well with sweet potato fries. Other toppings, though, could take the patties in a totally different direction: Try a spicy brown mustard or pesto mayonnaise.
Directions
To prepare burgers, heat oil in a large nonstick skillet over medium-high heat.
Combine kidney beans and black beans in a large bowl; partially mash with a fork. Add breadcrumbs, corn, onion, and egg; stir until well blended. Form bean mixture into 4 (1/2-inch-thick) patties.
Add patties to pan; cook 4 minutes on each side or until crisp and beginning to brown.
To prepare ketchup, combine ketchup, honey, lime juice, chile powder, and cumin, stirring with a whisk.
Spread 1 tablespoon ketchup on bottom half of each bun; top each serving with a patty, 1 lettuce leaf and 1 tomato slice (if desired), and top half of bun.