Cool As a Cucumber! Cheese, Cucumber and Chive Sandwich Spread
Lalaloula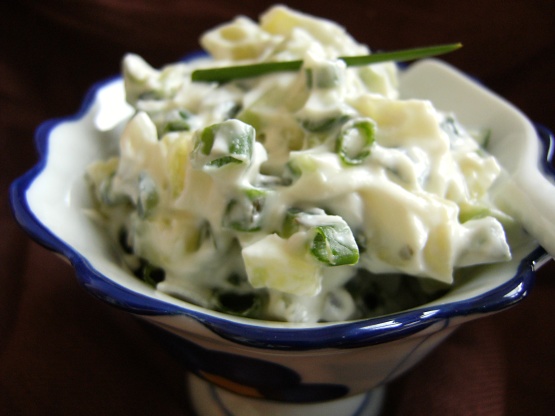 A must for cool people - or those who like cucumbers! This is a very versatile sandwich spread or dip, which is so easy to whip up at the last minute; it makes VERY elegant sandwiches and is a wonderful accompaniment for smoked salmon, prawns (shrimp) or tuna. I have also used it to spread on savoury scones and crackers. If you plan to make this a day before you need to use it, you might like to salt the cucumbers first - as they do release water into the spread.

Used 1/3 of a European cuke leaving some of the peel on to add a bit more color to the spread I had about 3/4 cup finely diced total. I had it first (with the mint) as a sandwich spread then on melba toast (without the mint) as a late night snack. Yep, made it twice. Still iffy about the mint. TFS this scrumptious recipe. Made for Aussie/NZ RS#40.
Allow the cream cheese to come to room temperature for about 10 to 15 minutes, to soften it slightly.
Add all the ingredients, EXCEPT the cucumber, and mix thoroughly. Season to taste with salt and pepper, then add the diced cucumber and gently fold through the mixture.Check the seasoning once more.
Serve as a sandwich spread or as a dip for crudites; also wonderful with crackers and scones. This spread is deleicious when served with smoked salmon and blinis.
Store in an airtight container in the fridge for up to 2 days.