Cookies That are Good for You
Annacia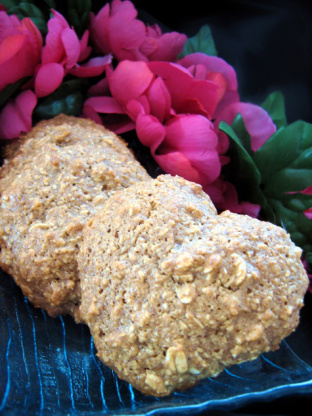 Portable power from peanuts,pine nuts and pecans. No white flour or oil! They're even good as a low fat breakfast on the go. These are a wanna-be entry for the Ready Set Cook #11 contest.

This recipe gets my vote. The batter was uber sweet and I was thinking that DS might have some cookies but once baked the sweet factor had mellowed a lot. For my personal taste I would still cut back a bit on the sweetness by using 1/2 the honey. For the brown sugar I used Splenda Brown Blend in half the amount the recipe asks for. DO add the cayenne, you won't be sorry. I made a half recipe and got 20 good sized cookies. Old fashioned oats were my cereal of choice. Made for Photo Tag.
Preheat oven to 350 degrees.
Put pecans in food processor or blender,and mix until you have a mealy paste that's sticking to the sides of the bottom; turn off the machine and scrape it off the sides.
Add next seven ingredients and mix, making sure the bananas get completely pureed.
Add in the oats or cereal.
Pulse in the pine nuts and chocolate chips (or stir in by hand) so they don't get crushed.
Drop by tablespoons on greased cookie sheets.
Bake for 15 minutes or until just starting to turn brown; cool for 5-10 minutes before removing from cookie sheet to avoid breakage.