Derf2440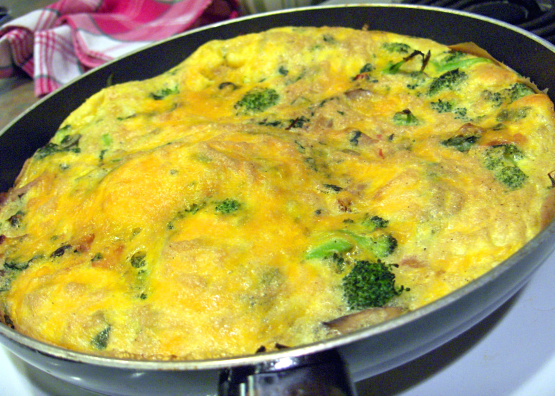 I LOVE the flavor the Dijon Mustard and Italian seasoning give this. This recipe is SO versatile! If you don't have one the veggies it calls for, leave it out or subsitute with something else. Also a great way to use up eggs.

Made this into kind of a left over fridge veggie fritata, turned out very tastey. Loved the dejon mustard, left out the Italian seasoning, just used salt and pepper and added some chopped swiss chard with the broccoli and the rest of the veggies, I used up some Canadian bacon, chopped. and just used 6 eggs and only half a cup of sharp cheddar, no water and instead of butter , just used veggie spray. . Thanks for posting, very good easy, quick supper..
In a skillet, saute the broccoli, mushrooms,and onion in butter until tender.
Remove from the heat and keep warm.
In a mixing bowl, beat eggs, water, mustard, Italian seasoning and garlic salt until foamy.
Stir in cheese, tomatoes and broccoli mixture.
Pour into a greased shallow 1 1/2 qt.
baking dish.
Bake at 375 degrees for 22-27 minutes.
or until knife in center comes out clean.
4-6 servings.