Colleen's Chocolate Chip Cookies (From the Olallieberry Inn)
Demelza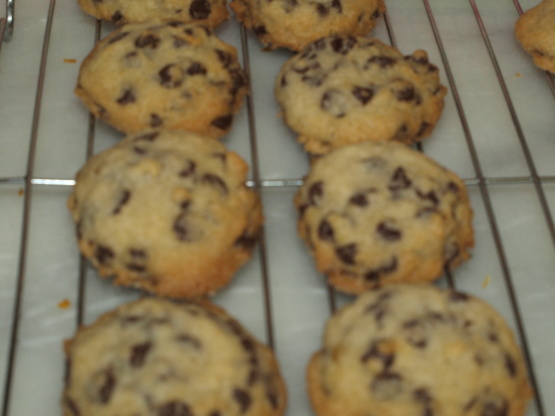 I stayed at the Olallieberry Inn in Cambria about 20 years ago, and the innkeeper was kind enough to give me the recipe for the amazing chocolate chip cookies they put out every afternoon. I have lost and found this recipe (written on a small piece of Olallieberry Inn stationery) numerous times over the years, so I'm posting it here so I never lose it again! I have posted it exactly as she wrote it, though I usually omit the pecans. Simple and delicious recipe.

I just tried this recipe today. I wondered if it the innkeeper had left out baking powder or baking soda in the recipe, but it was not needed. I was a little concerned about how much the cookies would spread as they were made with butter & not very much flour, so I added 1 tsp of Instant ClearJel to the recipe to stop them from spreading too much. If you don't have ClearJel, you might want to chill the cookies for about 30 minutes before baking. I divided the dough in half and added mini chocolate chips to one half, and mini baking peanut butter cups to the other half. I only baked them for 15 minutes at 325. I could have put a few less chocolate chips in, & a few more mini peanut butter cups in. The recipe does not say what size to make the cookies or if you should flatten them. I used a 1 Tbsp cookie scoop, placed them on a parchment lined cookie sheet & did not flatten them. Don't put more than 12 cookies on a standard cookie sheet. I did get 36 cookies as the reicpe stated. I left out the chopped pecans as well, my kids don't like cookies with nuts in them, but I think they would give the cookie a bit more body as well. Everyone who tried them thought they were very tasty. They were a little too sweet for my preference, but that is just me. I would make them again for my family. Thanks for posting this recipe.
Mix first 3 ingredients, add eggs and vanilla.
Add flour, mix well.
Add chocolate chips and pecans, mix well.
Bake at 325 for 15-17 minutes.