Coconut-Milk Pudding Rolls
Iceland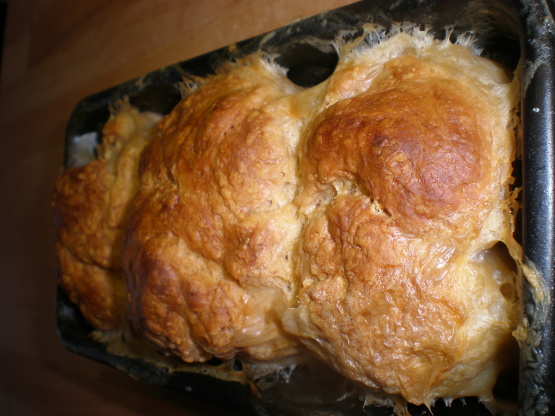 Decadence! From Sunset. The coconut milk makes a pudding on the bottom of these rolls. They would be perfect for breakfast or alongside fruit for Brunch. If you have a Kitchen Aid mixer you could use that instead of kneading by hand. The preparation time includes the time necessary to let the rolls rise.
Dissolve yeast in 1 cup warm water in a large bowl. Stir in 1 1/2 cups flour, 1/4 cup sugar, melted butter, salt, and egg until smooth. Stir in 1 1/2 cups flour and knead into soft dough, adding up to 1/4 cup flour as needed. Put dough in a large buttered bowl. Cover and allow to rise until doubled in bulk, about 1 hour. Punch down and allow to double again, about 30 minutes.
Whisk together coconut milk, remaining 3/4 cup sugar, and 1 tablespoons flour until smooth. Set aside.
Divide dough into 24 small balls. Put them in a 9- by 13-in. baking pan, cover, and allow to double, about 30 minutes.
Preheat oven to 350°F Pour reserved coconut-milk mixture over raised rolls. Bake until golden brown, about 25 minutes.
Note: Nutritional analysis is per roll.
Yield.
Makes 24 rolls.