Calee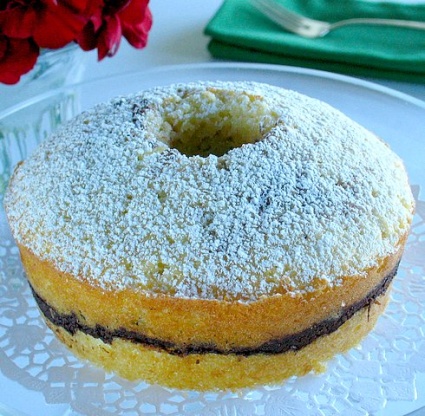 A lovely little tea cake/bread, not overly sweet, also good for breakfast or brunch. It comes from an old cookbook which fell apart and all I have is the rather stained page from the book, which will now join its fellows.

Top Review by Calee
Wonderful cake, your right its not overly sweet which we love. I cut this recipe in half and used 2 small bundt pans(capicity 1 1/2 cup each). For the filling I used a tbsp of sugar, which turned out very nice. Mine baked in 18 minutes. They turned out to be a nice fluffy cake texture. They looked like a giant cupcake. Thanks Kate for another keeper!!
Preheat oven to 350°F.
Generously butter a 6 and 1/2 cup ring mold or similarly sized bundt pan.
Cream together butter and sugar.
Add the eggs and beat until light and fluffy.
Sift together the flour, salt and baking powder.
Add the dry ingredients alternately with the milk to the creamed butter/sugar/egg mixture, beating well after each addition.
Mix together the filling ingredients.
Pour 1/3 of the batter into the prepared mold.
Sprinkle half the filling over the batter.
Carefully add another third of the batter.
Sprinkle with the remaining filling.
Add the balance of the batter.
Bake for 35 minutes, or until tester comes out clean.
Remove from oven and let stand for 5 minutes.
Invert and unmold cake.
Dust with a sprinkling of confectioners' sugar through a sieve.
Pour yourself a cup of tea and enjoy.