Coco Loco (Royal Caribbean's Version)
momaphet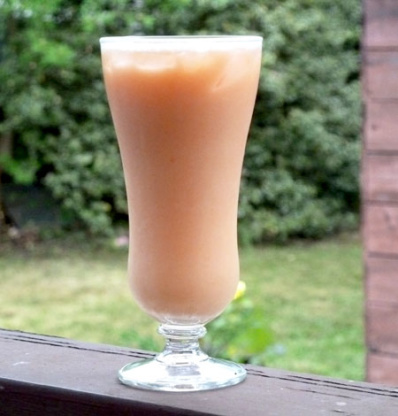 A fruity frozen drink from Oceans Potions: Royal Carribean Cocktail Recipe Book. This was my favorite drink to have poolside on our last cruise.
This is a lovely fruity drink and I loved the coconut without it being to heavy. I cut back on the grenadine and didn't use the optional banana. I somehow misread the recipe and mixed this in a shaker rather then blended and we really like it that way. The cream of coconut I use comes from an Asian market and isn't sweetened like most are, which we prefer as it keeps these type of drinks from becoming cloyingly sweet. What kept this from a 5th star was we found it had a bitter edge, though none of the ingredients had any bitterness on their own. DH even made a second -a great hardship :)- with light rather than dark rum, but it tasted the same. There must be something in the combining that casues it. Even so, we enjoyed it with our spicy grilled shrimp and zucchini. Thanks for sharing - made for ZWT 7 for the Food.commandos
Blend all ingredients with 1/2 cup ice. Add more ice as you wish.