Clock Watchers Chicken Skillet
DuChick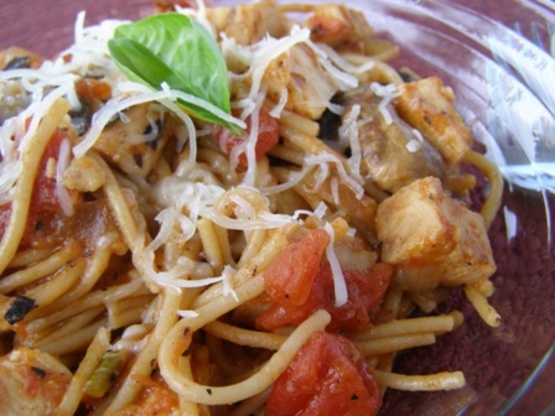 This is a quick and tasty one-skillet meal. Just add a salad and garlic bread, and dinner is ready in no time. Perfect for those busy nights when we had to run to hockey practice. Those were the days!

Top Review by cyaos
This was easy, tasty and didn't creat a lot of dishes. I followed the recipe exactly with the exception of cutting the chicken into pieces and leaving it in the pan with the spaghetti as it cooked and I used rotini instead of spaghetti. I used four cloves of crushed garlic and next time I would like to add just a hint of crushed red peppers for some extra kick. This was a nice quick meal for a busy weeknight. The leftovers the next day were a bit dry though according to my boyfriend. Thanks for posting!
In a large skillet, cook chicken and onion until onion is tender.
Remove chicken from skillet and keep warm.
Add tomatoes, broth, basil, garlic and pepper to skillet.
Bring to a boil; stir in spaghetti.
Reduce heat; cover and simmer for 15 to 20 minutes.
Return chicken to pan; cook until juices run clear and spaghetti is tender.
Sprinkle with Parmesan and serve.