Clean Eating Wakame Brown Rice Salad With Tofu
IngridH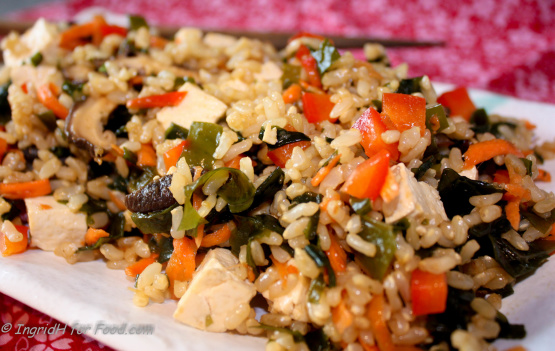 Entered for safe-keeping. From Clean Eating, May/June 2009. A Japanese salad.

This makes a very nice, healthy lunch. I made as written, except for shredding my carrots and leaving them raw. The only thing I would change is to cut back on the wakame- 1/4 cup dried is nearly 2 cups when hydrated, and I felt that the strong seaweed flavor kind of overpowered the other ingredients. Otherwise, I really enjoyed this dish, and would happily make it again.
Cook rice according to package directions; add carrot during last 5 minutes of cooking and mix.
Meanwhile, soak mushrooms in a bowl with enough warm water to cover and let stand for 20 minutes. Drain and chop mushrooms.
Transfer rice and carrots to a large mixing bowl. Add mushrooms, wakame and bell pepper. Combine well.
In a small bowl, whisk together vinegar, agave nectar (or honey), soy sauce, ginger and oil.
Pour sauce over rice mixture and toss to combine.
Carefully stir in tofu.
Refrigerate for 2-4 hours for best flavor. Can be kept in refrigerator for up to 4 days.