Classic One-Dish Chicken Stuffing Bake With Vegetables
Ameka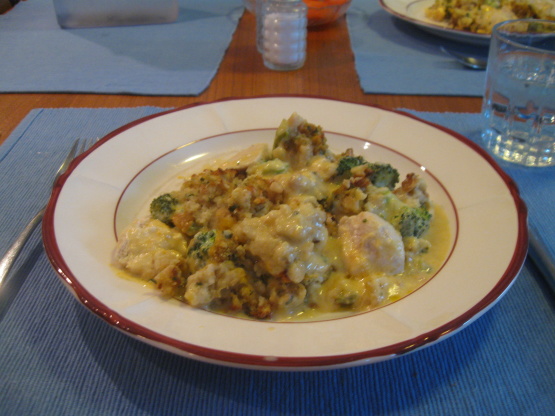 Adapted from a Kraft recipe; tweaked more to my family's tastes.

This was pretty good. I did have to season the chicken breasts a bit more of they would have been too bland for our taste. The only thing I didn't like was that the canned soup made the stuffing to soggy. I also used broccoli instead of peas and carrots and that was really tasty.
PREHEAT oven to 400°F.
Add hot water to stuffing mix; stir just until moistened. Set aside.
PLACE chicken in 3-qt. baking dish or 13x9-inch baking dish.
Mix soup, sour cream, cheese and vegetables; spoon over chicken.
Top with prepared stuffing.
BAKE 30 minute or until chicken is cooked through.