Cinnamon Streusel Coffee Cake
brewabel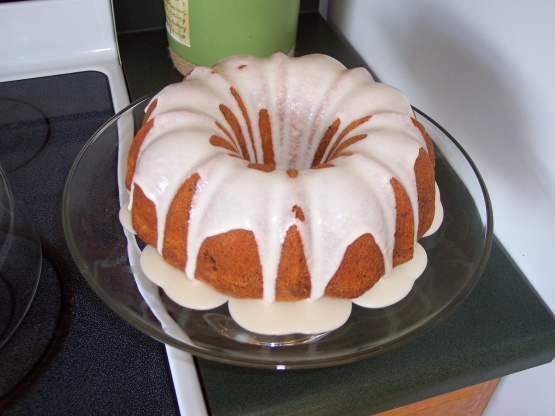 Found this recipe on the internet and it sure is a keeper! Easy to make and so moist and delicious, no one would ever believe it starts with a cake mix.

HOLY CRAP! Out of all of the recipe on zaar, this has got to be the best that I have reviewed! Incredibly moist cake. SO GOOD! I didn't find a 4 oz. thing of pudding - only 3 and 4.6 so I used the 4.6 package. I'm going to rename this heaven cake!
Combine all ingredients for cake and mix well.
Grease a bundt cake pan and pour half of cake batter into pan.
Combine all filling ingredients and sprinkle half evenly over batter.
Top with remaining batter, then sprinkle the rest of the filling mixture over the top of the cake.
Bake at 375° for 45 to 50 minutes or until done.
Cool on wire rack for 15 minutes, then turn over onto a plate and remove from the pan.
Cool cake completely.
For glaze, mix together butter and vanilla, then add powdered sugar.
Whisk in milk a tablespoon at a time until glaze is desired consistency.
Pour glaze over top of cake and let it run down the sides.
Allow glaze to firm before serving.