S3b4s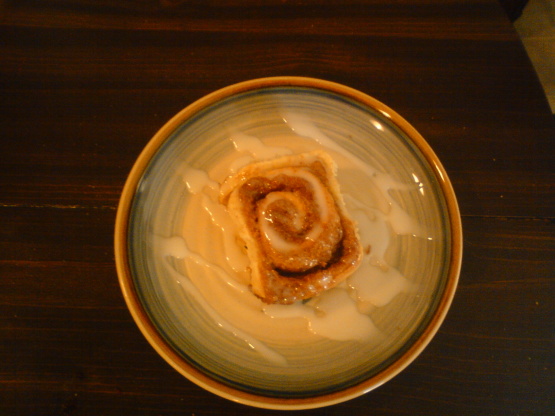 Check out my sweet dough Sweet Dough or cheat and use those refrigerated pop-open doughs. Top them with icing!!!!

Top Review by S3b4s
Used your sweet dough recipe for these buns. I used 1 cup brown sugar, 1/2 white. Didn't melt the butter, just let it soften and smeared it over. I got 12 big rolls out of it.
1

loaf prepared sweet roll dough

4

tablespoons unsalted butter, melted
1 1⁄2 cups sugar

2

teaspoons ground cinnamon
2⁄3 cup raisins or 2⁄3 cup nuts, chopped and toasted or 2⁄3 cup dried blueberries (add some lemon zest along with the cinnamon) or 2⁄3 cup dried cranberries (add some ginger along with the cinnamon)
Divide Sweet Dough in half.
Roll out each half into an oblong 14x9 inches.
Brush lightly with melted butter.
Sprinkle each oblong with a mixture of sugar, cinnamon and raisins.
Roll up as for jelly roll to make roll 9 inches long.
Seal edges firmly.
Cut into nine equal pieces.
Place cut side up about 1/3 inch apart in a greased pan.
Cover, and let rise until doubled in bulk.
Bake at 350 degrees for about 35 minutes.
Top with icing if you like!