Cinnamon Mocha Sheet Cake
truebrit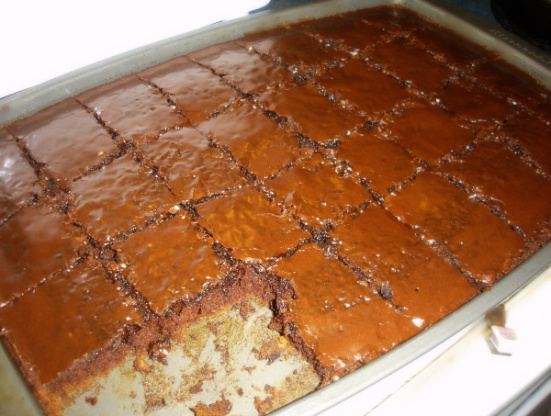 Moist, rich and chocolatey; flavored with cinnamon and espresso coffee. I first made this when I was 14 and it was gone in no time! It's still a family favorite!

Yay! This is an awesome cake! One of my favorite cakes. The perfect blend of coffee, chocolate, and cinnamon. I had lost this recipe and thought I would try finding it online. So glad I found it. Can't wait to make it for the family for Christmas! One note, if the frosting seems too runny, don't worry, it's not-just pour it on, it will turn out right when it cools.
Melt the butter in saucepan.
Stir in cocoa, water and coffee. Beat until smooth.
Combine granulated and brown sugars, flour, cinnamon and baking soda.
Add the cocoa mixture, vanilla, milk, and eggs. Mix until well blended.
Pout into a greased 10 by 15-inch jelly roll pan (a cookie sheet with sides).
Bake at 350 F for 18 minutes or until done.
Cool in pan.
Make the icing by melting butter in saucepan. Stir in the cocoa, coffee and cinnamon with the milk.
Mix until smooth.
Slowly beat in the powdered sugar and mix until smooth.Ice the cake.
Cut into 32 pieces.