katew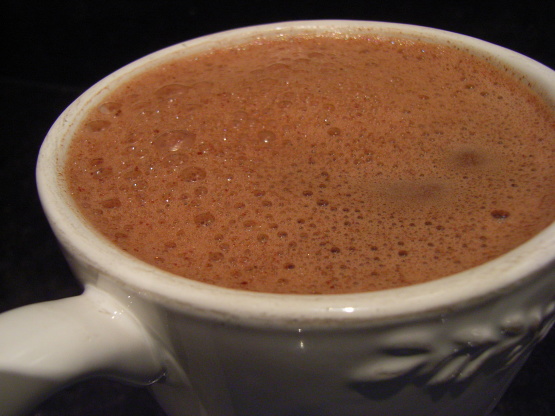 From Australian BH&G Diabetic Living issue 12 2007.

Top Review by awalde
I just had (scaled down only for one person) this delicious warming mocha.<br/>I really enjoyed it as it is easy, tasty, spiced, filling and now comforing as the summer is over.<br/>Thanks a lot for posting the recipe.
Place all the ingredients in a medium saucepan and stir over a low heat, whisking often for 10 to 15 minutes or until mixture is hot.
Using a sieve (conical recommended), strain the mixture into a heatproof jug.
Serve into 4 heatproof serving glasses or cups and serve.
TIPS - (1) Got a coffee machine, to add a little froth to your mocha, transfer 1/3 of the mixture into a small jug and using the milk attachment, froth and fill the top 1/3 of each glass with the froth. (2) For extra kick whisk 15ml of Baileys or a chocolate liqueur at the end of step 1.