katew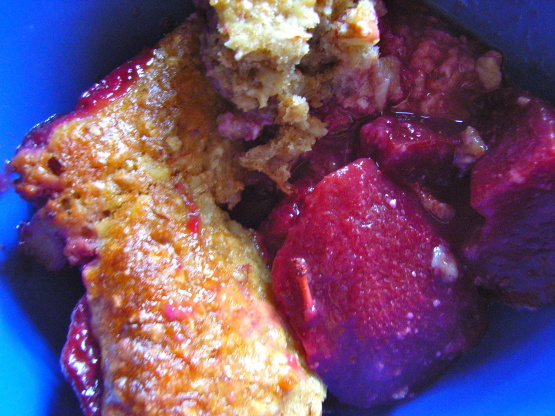 From Australian BH&G Diabetic Living - a lovely sounding light dessert.

Top Review by katew
I used a mix of apple and plum with a very nice result. I doubled the recipe and it was the delicious nuttiness of the topping from the almonds that stood out here. Also as desserts go, it was healthy-ish and I liked the fact it was butter free. I served it with vanilla yoghurt and when I came back from my walk this morning i found my BF finishing off a bowl for breakfast plus he ate it last night for dessert !!
Preheat oven to 160C (fan forced).
Spray 2 x 2.5cm deep, 1cm (base measurement) ovenproof dishes with cooking spray.
Arrange the apple slices in the dishes.
Put flour, almond meal and oat bran in a small bowl and stir to combines.
Whisk in the buttermilk, eggwhite and cinnamon in a separate small bowl.
Add the buttermilk mixture to the flour mixture and mix until just combines and then pour over the apple slices and smooth the surface.
Bake for 20 to 25 minutes or until set and light golden brown and then top with ice-cream (if having) and dust with cinnamon and serve straightaway.