matt s.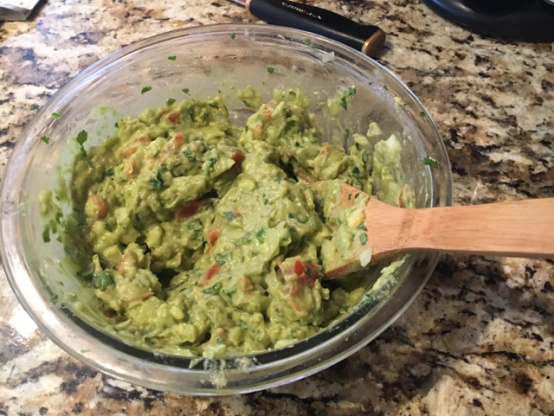 This recipe was originally submitted by Mean Chef (IHHDRO). I adopted it after he left the site. The text from my original review stated, "Excellent guacamole! I didn't have any serrano peppers on hand and subbed a some finely diced jalapenos. The flavor of this was so fresh and wonderful. I love avocados and this was guac at its best." I go through phases of craving guacamole and have tried other recipes, but always come back to this one.

This is the Williams Sonoma guacamole recipe. I have been making it for ages...when I couldn't find serrano peppers one time, I used about 1/3 of a small can of chopped jalapenos (NOT PICKLED OR JARRED) and we actually liked it even better than the original version so that's how I make it now. I use a little more lime juice than called for as well and it gives it a nice kick. This is a must try recipe...just a great guacamole that appeals to everyone.
1⁄2 medium white onion, very finely chopped

2 -3

serrano peppers, stemmed, seeded and very finely chopped

1

large tomatoes, cored and very finely chopped

1

garlic clove, peeled and very finely chopped

10

sprigs fresh cilantro, chopped

3

medium avocados (preferable Haas)
1⁄2 teaspoon salt
1⁄2 lime, juice of
In a medium-size bowl, mix the finely chopped onion, tomato, chiles, garlic and cilantro.
Close to the time you are going to serve, halve the avocados lengthwise by cutting from the stem to flower ends, around the pits.
Twist the avocado halves in opposite directions to loosen the meat from the pits, then scoop out the pits.
Scrape the avocado pulp from the skins and add it to the bowl.
Using your hand, a fork or a spoon, roughly mash the avocado while mixing in the other ingredients, making a coarse, thick mass.
Flavor with salt, then enough lime juice to add a little zing.