Ambervim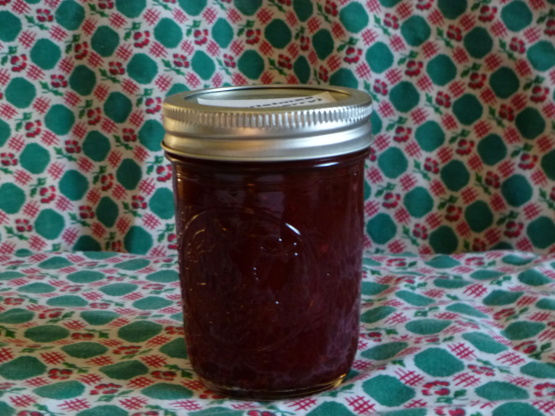 I created this last year. The cranberries were abundant and particularly good. The OJ and spices make this a wonderful spread on toast, English muffins or even meats.

I made this and gave it as gifts. People are still commenting about how good it is. Easy to make, too!
2

lbs cranberries
5 1⁄2 cups sugar

4

cups water (more or less as needed)
1⁄2 teaspoon butter
1⁄3 cup orange juice concentrate

3

ounces fruit pectin (certo that is 1 envelope)

1

tablespoon orange peel

1

tablespoon cinnamon

2

teaspoons nutmeg

2

teaspoons cloves
Use good canning procedures.
Put cranberries and water in large saucepan. Bring to boil. Reduce heat to low, cover and simmer 10 minutes. Press through a sieve, if desired, I don't. Measure 7-1/2 cups prepared fruit into a pot.
Stir sugar into prepared fruit in saucepot. Add butter to reduce foaming, if desired. Bring mixture to full rolling boil (a boil that doesn't stop bubbling when stirred) on high heat, stirring constantlly.
Stir in pectin and return to full rolling boil and boil exactly 1 minute, stirring constantly. Remove from heat and skim off any foam with metal spoon.
Ladle into prepared jars, filling to within 1/4 inch of tops. Wipe jar rims and threads.
Use good canning methods.