Prep 20 mins
Cook 1 hr 30 mins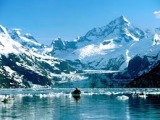 If you are craving chocolate, look no further! This cake is the ultimate in decadence and takes so few ingredients. It's dense, fudge-like and the ganache is delicious. I like to garnish it with some fresh raspberries. This recipe comes from a cookbook called, "Beyond Parsley". Enjoy! Note: time does not include refrigeration.
Directions
Preheat the oven to 350°F Melt the 8 ounces of chocolate, for the cake, and stir until smooth. You can use a double boiler for this or simply a bowl fitted over a pan containing an inch or two of boiling water - just make sure the water doesn't touch the bowl.
Remove from the heat and cool for a few minutes. Add the butter, a little bit at a time, and beat with a wire whisk until smooth.
Add sugar and beat it for about a minute, using the whisk.
Add eggs and continue beating with the whisk until fully incorporated.
Butter an 8-inch round cake pan and line with parchment. Pour in the batter and set pan into a slightly larger pan.
Fill the larger, outer pan with some hot water, about 1 inch deep. Bake for about 1 hour and 15 minutes (1 hour and 30 minutes tops.depending on your oven.).
Cool for 1 hour. (Yes, you have to wait!) Cake will fall, don't be alarmed.
Then refrigerate until set, at least 2 hours. (Yes, you have to wait some more.).
Prepare the ganache: Boil chocolate and heavy cream together, over medium high heat, stirring to blend. Be careful here so you don't burn the chocolate. Once the chocolate is melted, take off heat immediately and set to cool a bit.
Refrigerate the ganache until it's of spreadable consistency. This could take about 1 to 2 hours (while your cake is refrigerating). Just be careful that it doesn't sit too long or your ganache will become too hard to spread.
Reviews
Most Helpful
So chocolaty and fudgy! The ganache was my favorite part. I had a bit of time mixing the butter in by hand so the cake did end up a bit crunchy with butter not quite mixed in. I did use a 9in cheesecake pan.

This is without a doubt the BEST chocolate truffle cake I've ever had. However, I had such a time getting the cake out of the pan that I nearly destoyed it. I double lined my pan, per a previous reviewers suggestion, but still had a heck of a time getting the cake to release. I plan to make it in the springform pan next time.
amazing chocolate cake, this is a dense rich slice of chocolate heaven, a chocolate lover's dream dessert and one i will make again very soon, thanks for posting LifeIsGood, this was made for KK's Chef's Pick forum game