Chocolate Raspberry Truffle Bars
MA HIKER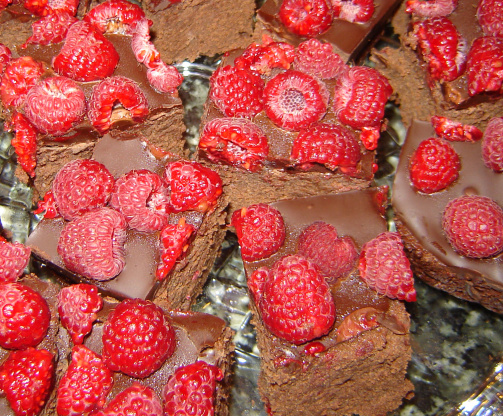 Wow - rich, fruity and delicious! but be forewarned you need to finish these in a day or two (keep refrigerated) because the raspberries get moldy easily!
Preheat oven to 350 degrees.
Butter and flour a 9-inch square baking pan.
Melt half of the chocolate in the microwave with the 2 sticks butter. Stir to combine, set aside.
In a large bowl, using a whisk, beat the sugar with the eggs until bubbly, about 1 minute.
Gradually whisk in the melted chocolate, then the flour.
Using a spatula, scrap the batter into the prepared pan, smooth the top and bake until a toothpick inserted in the center comes out with moist crumbs, about 35 minutes.
Let cool on a rack.
Melt the remaining chocolate and 1 1/2 tablespoons butter in the microwave. Stir to combine.
Pour the glaze onto the cooled truffle cake and tilt the pan to coat the top.
Refrigerate to partially set the glaze, about 30 minutes.
While the chocolate is still tacky, scatter the raspberries in a single layer on top, the n refrigerate for 10 more minutes to set the glaze completely.
Cut the cake into 3 inch squares.