Chocolate Mousse Charlotte
Prep 15 mins
Cook 30 mins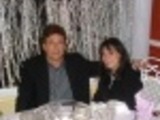 I thought for sure I would have seen this posted already, as this has been a standby of my mother's for the last 30 years or so. It is always a big hit and, best of all, takes little effort.
Directions
Line a springform pan bottom and sides with ladyfingers (about 1-1/2 packages).
Follow directions on pudding mix, using 2 cups of milk.
Add cream (which replaces the other 2 cups of milk on the package directions).
Beat until thick with heavy peaks.
Pour into ladyfinger-lined pan and let set.
If you like, finish off top with additional whipped cream.
Most Helpful
Family friendly, couldn't be easier dessert. Ladyfingers gussy up chocolate pudding quite nicely. Have unexpected guests? This makes up in a flash! Made for Rookie Recipe Tag.

Great dessert and easy also, I had the same problem as Hokie did, it took a special trip to the Italian store to get ladyfingers, I may give this a try next time with my recipe#362346 I prefer homemade pudding to the boxed, thanks for sharing Jackie!
I struggled finding lady fingers anywhere so I used sliced angel food cake. It worked fine. The most important issue with this recipe is not the lady fingers but the mousse!! I never would have thought that an instant pudding mix could turn out to taste so wonderful. I usually find them a bit bitter but using the milk and heavy cream takes all that away with this recipe! Jackie thanks for sharing what will now be my go to recipe for mousse - with or without the ladyfingers this is a great dish! Tagged in 123 Hits.