chia2160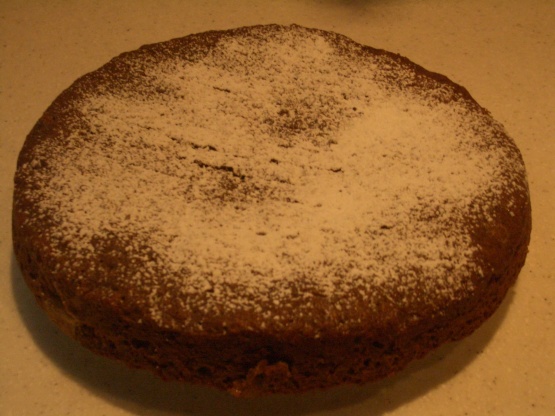 Had some cranberry sauce left over and it had thickend to the consistency of jam. Used it in this cake. Nice combination. You can use any kind of jam you wish. This recipe comes from a little recipe leaflet I bought a long time ago.

I had some preserved cherries that I was looking to use up. I was thinking with chocolate, it might approach a black forest taste...but not so much. The cake was fine for moistness and texture. Not very sweet, and for the bites with cherry, quite tasty. I also sprinkled mini chocolate chips on top and added a couple of teaspoons of instant coffee to the jam-butter-sugar mixture. I think it is a fine dessert, but not outstanding.
Preheat the oven to 350°F.
Grease and flour a round 9 inch baking pan.
Put butter, sugar, jam and water in a small pan on low heat.
Stir until butter is melted and sugar is dissolved.
Let it cool to room temperature.
Sieve flour, baking powder and cocoa in a bowl.
Add eggs and butter mixture.
Mix batter with a wooden spoon, don't overmix.
Pour batter in prepared pan.
Bake 35 minutes or until an inserted skewer comes out clean.
Serve with whipped cream or frosted with chocolate or just as it is.