Luschka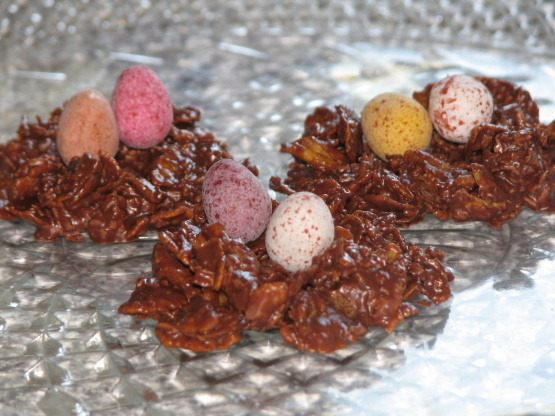 This recipe has been an Easter tradition in my family for many years. I received this from my mom. She can not remember where she got it. I always double the receipe. One batch is not enough for my family. If you like dark chocolate, this works well with semi-sweet and dark chocolate.

This is possibly the quickest desert I've ever made! 5 minutes tops! The novelty value is obvious, as I used them as table decorations for Easter Sunday, two on a plate at each table setting. They're so tasty too! Simple and quick and so so easy. I used mini eggs instead of jelly beans, which was perfect, and I'm sure I'll find ways of adapting the basic recipe to something other than nests for the rest of the year. Absolutely fabulous. I can foresee these becoming a yearly tradition. Thank you!
9 3⁄4 ounces plain chocolate candy bars (I use Hershey's)

4

ounces German sweet chocolate

4

ounces shredded coconut

2

cups crushed corn flakes

1

(12 ounce) bag jelly beans
Melt chocolate bars and the German sweet chocolate over low heat.
Add coconut and cornflakes.
Stir until coconut and cornflakes are covered with chocolate.
Drop mixture by Tablespoons onto wax paper.
Shape each Tablespoon of mixture into a nest.
Make an indentation in the middle of the nest.
Place 2 jelly beans into each nest.
Place in refrigerator about 30 minutes.
Enjoy!