PaulaG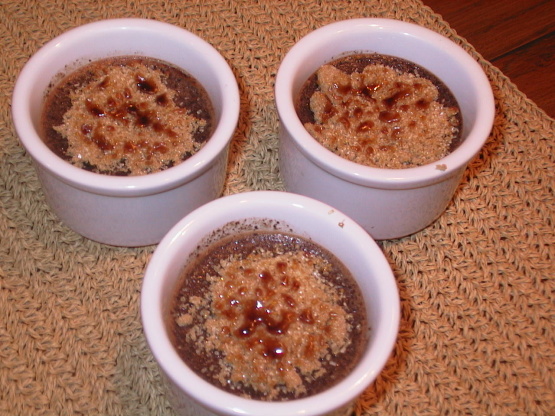 Smooth, rich, creamy, with a great caramel crust, and best of all CHOCOLATE!!!

Thanks, I just loved this recipe! I never had Creme Brulee before. I never knew what I was missing.
Custard

2

cups whipping cream

1

tablespoon vanilla extract

3

ounces semisweet chocolate, chopped

6

egg yolks

6

tablespoons sugar

Topping

3

tablespoons sugar

3

tablespoons firmly packed brown sugar
For custard: Place cream in heavy, medium saucepan.
Bring to simmer and remove from heat.
Add vanilla extract and chocolate and stir until chocolate is melted and mixture is smooth.
Whisk egg yolks and sugar in medium bowl to blend.
Slowly whisk in hot chocolate cream.
Let cool to room temperature, stirring occasionally, about 15-20 minutes.
Position rack in center of oven and preheat to 300F.
Arrange six ½ cup ramekins or custard cups in shallow baking pan.
Divide cooled chocolate mixture among them.
Pour enough hot water into baking pan to come halfway up sides of ramekins.
Bake until custards are just set, about 40 minutes.
Cool custards on racks (can be prepared 1 day ahead; cover tightly and refrigerate).
For topping: Preheat broiler.
Mix sugars together.
Sprinkle over custard in an even layer.
Place ramekins on a baking sheet.
Broil 2 inches away from heat source just until sugar melts and begins to caramelize.
Let stand 5 minutes before serving.