Chocolate Cookies With Creamy Peanut Butter Filling
PumpKIM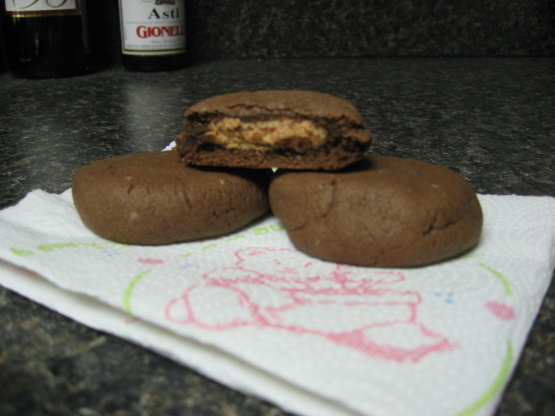 The title says it all! These are very fast, easy and with ingredients I usually have on hand.

These are ridiculously good! A little more effort needs to be put into assembling them than with most cookies, but it is well worth it. One suggestion, though. You should describe how big to make each of the balls in the directions, as I was only able to get 24 cookies with the sizes of mine!
In medium bowl stir together Flour, cocoa powder and baking soda; set aside.
Mix butter, granulated sugar, brown sugar, and 1/4 Cup of the peanut butter; beat this with mixer until well blended. Add egg, milk and vanilla and beat well.
Beat in flour mixture.
Shape this dough into 32 balls.
For filling combine powdered sugar and remaining 1/2 Cup peanut butter with a mixer until its smooth; you might have to knead it a couple of times if it crumbles.
Shape this dough into 32 balls (these will be smaller).
Flatten each chocolate dough ball.
Top with peanut butter dough ball.
Shape chocolate ball around peanut butter ball and roll it all into one big ball.
flatten with bottom of glass.
Drop the flattened cookie into granulated sugar to coat just the one side.
Bake in preheated 350 for 8 minutes.