Chocolate Chai Coffee Mix
twissis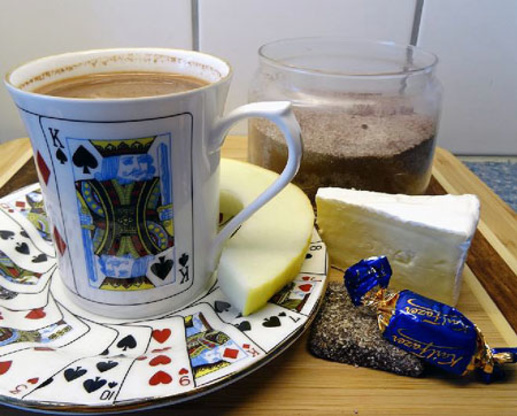 Add a spicy twist to your coffee.

Made as written for the "Thirst Quenchers" challenge of CQ4 (Himalayas Region) - This recipe is 2 minor details away from being a worthy 10 stars. Using a high quality dark chocolate cocoa powder makes a remarkable difference in the flavor & filtering the brew thru a coffee filter or paper towel makes a remarkable difference in how it is savored. As you can see from the pic, there is a collection of residue around the rim of the cup that would not be there if it was filtered. I've tried dry mixes like this before & had the same issue, but this mixture is better than most. I'm very glad I found your recipe. Flavored coffee mixes are 1 thing I've esp missed since moving to Iceland from the US. Thx for sharing this recipe w/us. :-)
Mix sugar, cocoa powder, cinnamon, salt, ginger, pepper, cloves, and cardamom together in an airtight container; seal and shake.
To serve: put 2 tablespoons mix into a mug. Fill mug halfway with fresh brewed coffee, stir, and add milk or creamer.