Chipotle Lime Chicken Wings
SEvans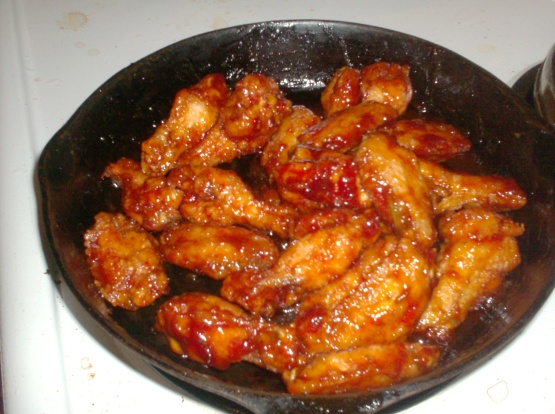 Im serving these to ALL my guests from now on - they are tremendous. Feel free to heat them up with hot pepper flakes or serve them as is.

Wowza! These are fantastic. Even my uber-picky DS loved these. I was crunched for time, so I used pre-breaded chicken nuggets, baked until crispy. I also did not have/could not find the chipotle bbq sauce, so I used regular and added in about 1-1/2 choppped up chipotle in adobo. Very nice and just a bit spicy! Thanks for a great treat.
Combine barbecue sauce, honey, lime juice and zest and set aside.
Combine flour, corn starch and seasoning salt in a bowl.
Dust each wing with flour mixture and set aside on wax or parchment paper.
Heat deep fryer or potted oil to 325 - 350°F.
Dust a few wings at a time- second time and fry for 7 - 8 minutes - let cool on wire rack.
When all the wings have been fried - heat 2 -tablespoons of butter in a deep pan.
Add the sauce mixture and combine well with the butter (this makes them glossy).
Add the wings and mix to make sure each wing is completely saturated with sauce & rewarmed .
Serve -- .