Bergy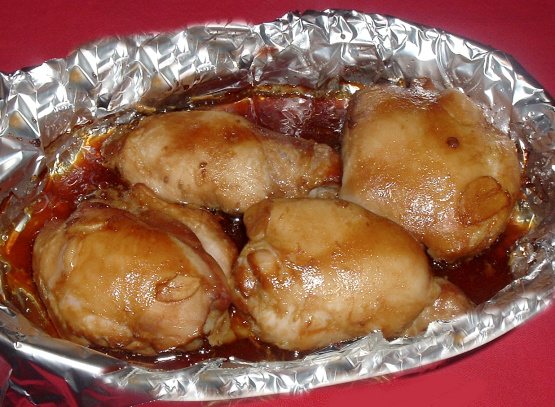 Delicious marinated chicken.
Mix everything but chicken in a large glass bowl or plastic zip-lock bag.
Taste for sweet/sour balance and correct if necessary.
Add chicken and marinate for at least 2 hours and up to 24 (please keep refrigerated).
Arrange chicken in a shallow baking dish and add some marinade if you wish (I have always done it this way without sickness since you then cook everything for quite some time, however, if you're concerned reserve some marinade before you add the chicken).
Baking times/temps vary depending on whether you're making wings or parts- they are as follows: Wings only- set oven to 325 and cook the wings for 1 1/2 hours turning and basting approximately every 1/2 hour.
Chicken parts- set oven to 375 and cook the chicken for approximately 45 minutes turning and basting at the halfway point.
If using boneless skinless breasts I would reduce the cooking time to 30 minutes and then check every 5 minutes until the breasts are cooked through but not dried out.
I serve this with plain white rice, but fried rice would be equally delicious.