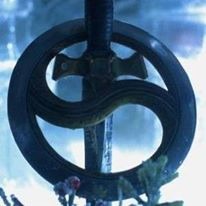 Good recipe! I was running short on time and didn't flour/pound the meat and brown it. I mixed the tomatoes, flour, chili powder, salt and pepper together. I topped the steaks with onion slices, poured on the tomatoes and baked for about an hour. I used colby jack cheese.
Preheat oven to 350 degrees.
In cup, combine flour, salt, chili powder and pepper.
Trim any excess fat from round steak; place meat on board and sprinkle with some flour mixture.
With meat mallet or edge of saucer, pound mixture into meat.
(This helps tenderize it).
Turn and repeat on other side.
In 10 inch skillet over medium-high heat, in hot shortening, cook meat until well browned on all sides; remove meat to board.
In drippings, cook onions until browned; stir in remaining flour mixture.
Spoon onion mixture into a large shallow casserole.
Arrange steaks on top, then add tomatoes and their liquid.
Cover and bake 1-1/2 hours or until meat is fork-tender.
Spoon any fat from casserole.
Sprinkle steaks with cheese.
Heat 5 minutes or until cheese is melted.