Suzie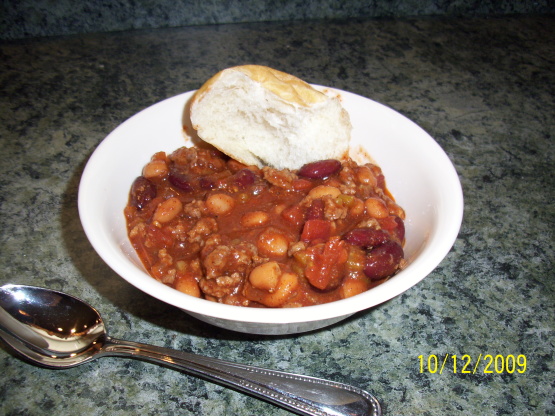 We are big chili lovers in this family and absoutely love trying different chili recipes..i dont think ive ever fixed the same recipe twice..:) this one is DELICIOUS-------- for all you chili lovers out there this one is for you...

I had been trying many chili recipes trying to find just the right one....after making this one my hubbie won't let me try any other kind. So for our taste it's great...I've so far made it three times once with ground beef, another with ground turkey and another with ground pork. Each gives it a slightly different taste but they are all great. I hardly ever have fresh tomatoes just b/c of where we live so I sub an extra can or two of tomatoes, once when it was two liquidy I added an extra can of tomato sauce. Well thanks a lot for the great recipe!!!!
Brown the ground beef in a skillet over medium heat; drain off the fat.
break the meat into tiny pieces.
In a large pot, combine the beef plus all the remaining ingredients, and bring to a simmer over low heat.