Chile Carrots With Garlic
LostInCA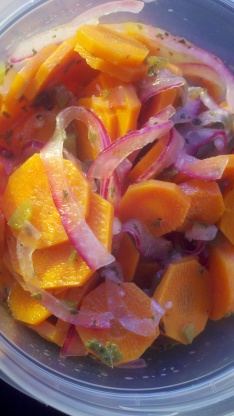 This is served in Mexico. It makes a great appetizer! Always wear gloves when cutting or touching jalapeno peppers. If not, be very careful not to touch your eyes, nose, mouth or "other areas"!

These are delicious! Our family really enjoys the carrots included in pickled jalapeños but there never seems to be enough of them. This recipe has ended the mad dash to dig out the carrots of a newly opened can of peppers. We love the crispness and the ability to control the heat. Thanks for a delicious recipe! It's a keeper!!
In a pot of boiling water, blanch the sliced carrots for 30 seconds; drain.
In a bowl, mix all of the ingredients with the hot carrots.
Refrigerate 30 minutes before serving.
Keeps refrigerated for 6 days.