Redsie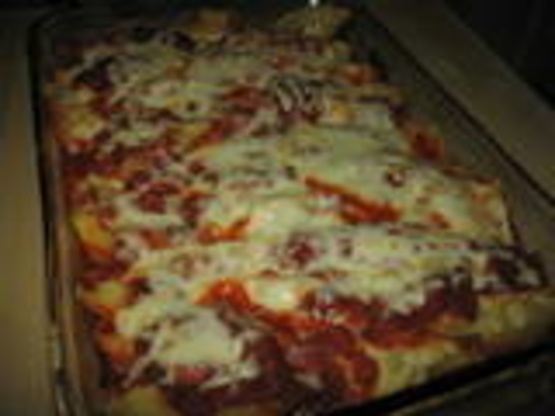 Yes! Chickpeas! But nobody will know! No one can guess the shells are stuffed with them! Nutritious and delicious! Adapted from a Taste of Home recipe.

This was a great meal for our Meatless Monday Menu. I don't think anyone knew that there were garbanzo beans in it, and there was a lot of flavor without adding anything but what the recipe called for. As far as consistency goes, I had the opposite situation than Lt. Amy and mine seemed slightly runny. My husband suggested (after I had stuffed all the shells) that maybe I should put the filling into a pastry bag and pipe it into the shells. I'm going to hold onto that for the next time I make it, but I wanted to pass it on to others that hate making stuffed shells because of the stuffing that is involved. Thank you for posting! We will be making this one again sometime soon.
Cook pasta shells according to package directions.
Meanwhile, place the chickpeas and egg whites in a food processor; cover and process until smooth.
Add ricotta, parsley, parmesan, onion and garlic; cover and process until well blended.
Pour 1 1/4 cups of spaghetti sauce into an ungreased 13x9 inch baking dish; set aside.
Drain pasta shells.
Stuff with chickpea mixture.
Place over sauce.
Drizzle with remaining sauce.
Bake, uncovered, at 350F for 30 minutes. Sprinkle with mozzarella cheese.
Bake 5-10 minutes longer or until cheese is melted and sauce is bubbly.