Chicken With Saffron Jeweled Rice
Rita1652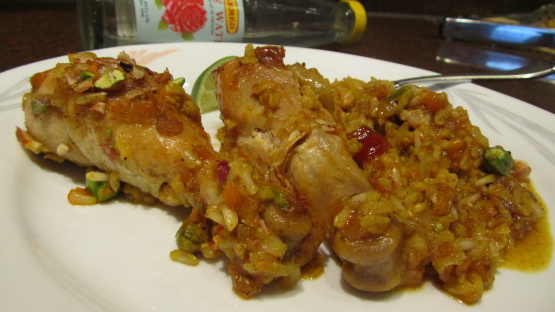 POSTED FOR CRAZE-E CONTEST, 2010. In Persian culture of both Iran and Afghanistan Nowruz (New Light, Persian New Year) is celebrated with friends and family. Food gifts such as Chicken with Saffron Jeweled Rice would be an excellent addition to the table spread of food. This is an adaption for the American kitchen of the traditional recipe, Morasa Polo.

Top Review by noway
Delicious! I cut up boneless skinless chicken thighs instead of using chicken legs, and did not use the rose water or lime, but otherwise made as stated. The sweetness was just right and I loved the complexity of the flavors. We will definitely enjoy this again! Thanks for posting.
4

tablespoons butter

1

cooking onion, thinly sliced

4

chicken drumsticks, with thighs (attached or not, depending on size for serving purposes)
1⁄8 cup dried cranberries
1⁄8 cup dates, chopped
1 1⁄2 teaspoons icing sugar

1

cup basmati rice, rinsed, soaked for at least 10 minutes & drained
water, as needed

1

medium carrot, grated coarsely
1⁄4-1⁄2 orange, zest of (depending on size and preference)
1⁄2 teaspoon saffron
1⁄4 teaspoon cumin
1⁄4 teaspoon cinnamon

3

cardamom pods, cracked
sea salt, to taste
1⁄4 cup slivered almonds (toasted in a dry pan or fried in extra butter)
1⁄8 cup pistachios, chopped
1 1⁄2 teaspoons rose water (optional)
lime wedge, to garnish
Heat half the butter in a large frying pan.
Add the sliced onion and cook, stirring occasionally, until golden, Remove to plate.
Heat remaining butter in the pan and add the chicken.
Cook, turning occasionally, until brown all over and half cooked or more. Remove to plate.
Add the dried cranberries & chopped dates to the pan and sprinkle with the icing sugar.
Cook, stirring, for 1 minute.
Return onion and browned chicken to the pan.
Add drained rice, water as needed, I'd use just under 2 cups, use the amount you would usually to cook rice. Add the orange zest, coarsely grated carrot, saffron, cumin, cinnamon, cracked cardamom pods, sea salt, to taste and stir to combine.
Increase heat to high to bring to the boil.
Reduce heat to low and cook, covered, for 15-20 minutes or until rice is tender and liquid is absorbed.
Remove from heat and set aside, covered, for 5 minutes to rest.
Use a fork to fluff the rice.
Add half of the toasted almonds and pistachios and stir through the rice.
Transfer to a serving platter.
Sprinkle with remaining pistachios, almonds, and rose water if using.
Arrange lime wedges around dish.
Serve immediately.
Avoid actually eating the cardamom pods.