Chicken-Vegetable Pot Pie / Pies
Dorel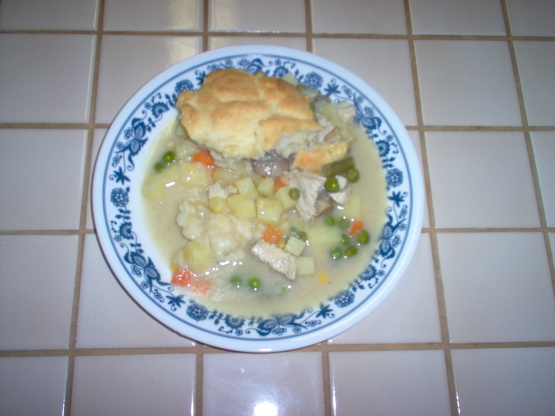 This is one of my adopted recipes and I have made it. I have changed the recipe to boneless skinless breasts. I used fresh mushrooms. Yukon gold potatoes are my choice but any firm potato will do. Next time I will double the topping as it so good. I used all the topping on 1/2 the recipe.

4 stars for filling (see explanation below) I originally made this filling but used a different biscuit recipe which I rolled out into crusts.I made small pies with the mini tins and I think it made 8 pies so it was a very generous amount. I wrapped them in foil and froze them then took off the foil and put them in a micro-safe dish and sent to work with hubby. He raved about them every time he ate them!
Today I made these again (well, started making anyways) I made a double-batch which I again plan on making into individual pies. Needed something for dinner though so put some into an 8x8 dish and made your biscuit topping. I used milk instead of buttermilk so maybe that was my problem but I wasn't too impressed. I dropped the sticky dough onto the dish and it seemed more like dumplings. They didn't puff up and were rather dense. From now on I will stick with making my pies!
Combine chicken and water in a large saucepan and bring to boil.
Cover, reduce heat, and simmer 15 minutes or until chicken is tender.
Remove chicken, reserving broth.
Cut meat into bite-size pieces; set aside.
Add potatoes, celery, and bouillon powder to broth; bring to a boil.
Cover, reduce heat, and simmer 15-20 minutes or until potatoes are tender.
Stir in mixed vegetables; set aside.
Melt 2 tablespoons margarine in a heavy saucepan over low heat; add 2 tablespoons flour, stirring until smooth.
Cook 1 minute, stirring constantly.
Gradually add skim milk; cook over med heat, stirring constantly, until mixture is thickened and bubbly.
Remove from heat; stir in poultry seasoning.
Combine reserved chicken, vegetable mixture, white sauce, and mushrooms in a large bowl.
Spoon into individual baking dishes that have been coated with Pam.
Or into 1 large casserole dish.
CRUST.
Combine 1 cup flour, baking powder, and salt in a small bowl.
Cut in 1 Tablespoon plus 1 1/2 teaspoons margarine with a pastry blender until mixture resembles coarse meal.
Stir in buttermilk.
Spoon biscuit dough over chicken mixture.
Bake at 350°F for 1 hour or until biscuits are golden.