Chicken Thighs With Artichokes
Zurie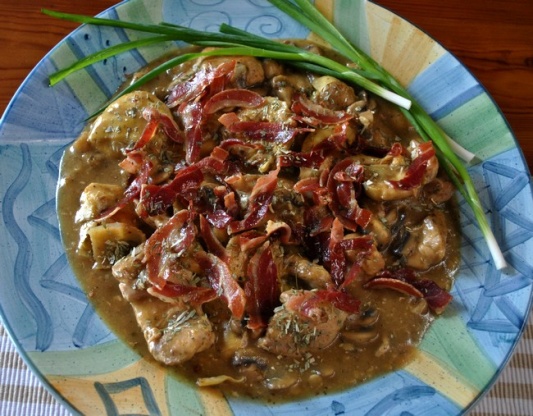 When our supermarket has really good sales on meat and poultry I buy it in bulk and store it in our freezer chest. This is a good recipe to use for chicken thighs.

Top Review by Zurie
This is a 5 star recipe for everyday use! The gentle flavour was great and spot on, and after prepping the vegs it was such an easy recipe to cook. There is only one reason why I decided against 5 stars. Skinned, deboned chicken can taste a little dry if not handled carefully. So next time I will not try that bit about frying the chicken thighs until browned. I would do the artichokes and mushrooms, then simply add everything to the pot, and simmer until the chicken has cooked through. I followed the recipe exactly, and as stated the flavour was great, but the thighs were too dry due to trying to brown them! Taste Tester, the flavours were very well balanced: not dramatic, just gentle. It went perfectly with rice and 2 green veggies. I might also want to sub the vinegar with either lime or lemon juice, but that's no great issue. Thanks for a lovely supper dish!! I could not find fresh tarragon, but had very good dried tarragon, so used that. Otherwise, no subs used.
In large skillet cook prosciutto in the 2 teaspoons hot oil over medium-high heat 2 minutes or until crisp. Remove. Sprinkle chicken with salt and pepper. Cook in same skillet 8-10 minutes or until browned, turning once. Transfer to a bowl; set aside.
Add remaining olive oil and artichokes to skillet. Cook and stir 3 minutes until golden brown. Transfer to the bowl with chicken. Add mushrooms to skillet. Cook 3 minutes, stirring up browned bits, until golden. Stir in garlic and tarragon; cook 1 minute.
In second bowl whisk together flour, broth, and vinegar. Remove skillet from heat. Add broth mixture. Add chicken and artichokes. Return to heat. Bring to boiling; reduce heat. Simmer, uncovered, until thickened. Top with prosciutto and tarragon.