Chicken Tangine With Almonds
Peter J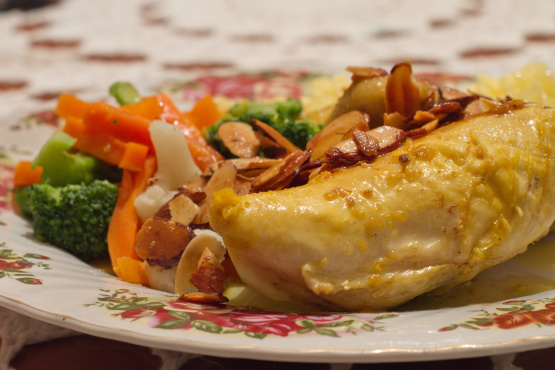 This is a fairly simple chicken tangine recipe. The recipe came chef Angela Shelf Medearis. Enjoy!

Very nice! Wonderful blend of flavors that had a fantastic aroma while cooking and the chicken was super tender. I skinned the chicken and served along with a little rice and few steamed vegies. The sauce and toasted almonds made it all work together really well.
Melt 4 tablespoons of the butter in a skillet over medium heat. Add the oil, garlic, ginger, saffron and cook briefly until the garlic is golden.
Slowly add 1/2 C of the water to the sacue in the skillet, then add the chicken pieces. Add water until the chicken is partly covered. Add the coriander and cover the skillet. Reduce heat to low and simmer until the chicken is tender, about 45 minutes. Remove the chicken from the skillet and arrange on a serving dish.
Increase the heat to high and boil the sauce until reduced by half, stirring often. Pour the sauce over the chicken.
In a small pan over medium heat, melt the remaining 1 T of butter. Add the almonds and cook until browned, about 3 minutes. Spinkle the browned almonds over the chicken.