Boomette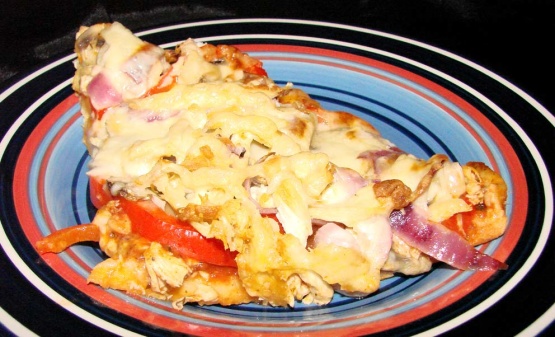 I find this pizza great for leftover chicken, but you can use raw chicken breasts and cook them up. Also, because of the taste of salsa, you don't need as much cheese or sauce, which makes it healthier. I prefer to use homemade half-whole wheat pizza dough, but any dough will work.
wow this is yummy! I precooked the chicken breast in olive oil in a pan on Sunday. And yesterday did the pizza. I didn't mix all the ingredients. I put the salsa (spicy) on the pizza crust, then the veggies, chicken and monterey jack cheese. I loved it. Thanks CoCaShe :) Made for I recommend tag game
1

pizza crust

1

boneless skinless chicken breasts, cut into strips or 1 enough leftover chicken to cover one pizza crust

1

cup assorted fresh vegetable, for example, green peppers, mushrooms, red onions
cheddar cheese or tex-mex cheese
Prepare the pizza dough.
If using raw chicken breast, fry strips in oil until cooked through, but not totally done. Halfway through cooking add vegetables and sautee until soft. If using leftover chicken, you can just sautee the vegetables, or leave them raw and put all the ingredients in a bowl.
Add enough salsa to coat the chicken and vegetables.
Mix in as much cheese as desired.
Top pizza with chicken and vegetable mixture. Top with more cheese if desired.
Bake on preheated pizza stone at 475 for 10 minutes, or according to directions for pizza dough.