MsSally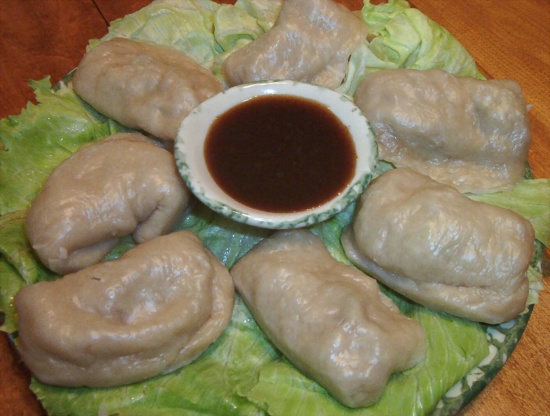 These are a nice change from the more standard beef or pork potstickers, the home made dough is easier than pie (crust that is). Serve with your favorite asian dipping sauce or plain soy sauce.

I thought these were REALLY good and my husband LOVED them....personally I thought it was just a little too much dough, so next time I'll just make them smaller and more. Probably could get 16-18 at 6", so at 3" it would double. Other than that fantastic recipe and thanks for posting!
Dough:.
Sift flour and salt into a large bowl. Make a well in the center and fill with vegetable oil and approximately 4 tablespoons boiling water. With a wooden spoon, stir until smooth, adding more boiling water as necessary. Knead about 5 minutes, until elastic. Cover and allow to sit 30 minutes.
Divide dough into 12 equal pieces. Roll each piece into a 6 inch circle.
Thoroughly mix the filling ingredients together (except the oil for frying)
Heat oil in a large skillet. Place approximately 1 tablespoon chicken mixture in the center of each dough circle. Fold over mixture and press edges together to seal. In small batches, cook in the hot oil until bottoms are golden brown. Place approximately 1/3 cup water in the pan. Cover and continue cooking approximately 5 minutes, until surfaces of the dumplings are well steamed. Serve immediately.