Susie D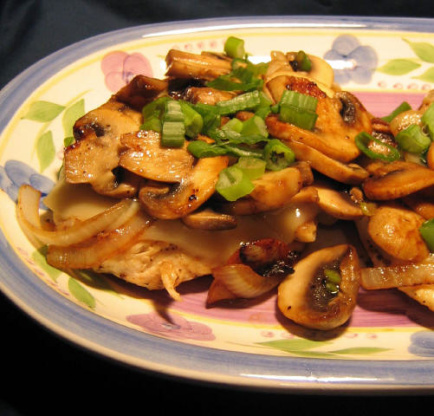 Back in the day, when life revolved around the kids' practices and games and other after-school activities, dinner usually had to be on the table in 30 minutes max. This recipe from Southern Living was one of our 'quick-and-easy' favorites. Prepare a package of long-grain and wild rice, throw some green beans in a saucepan to heat, chop up a few pieces of fruit (or open a can), and you'll have a very acceptable dinner in spite of your crazy schedule! :) Also, whether you're cooking for 1 or 4 or 10, this one is easily adaptable.
Melt 4 tablespoons butter or margarine in a large skillet over medium heat.
Rinse chicken pieces with cold water and pat dry.
When butter has melted and begun to sizzle slightly, add chicken to skillet.
Cook chicken approximately 10 minutes, until nicely-browned.
Meanwhile, rinse and trim onions; slice thinly, including some green "tops".
Clean mushrooms and remove stems; slice caps.
When chicken is browned on the outside and appears to be cooked approximately halfway through, turn the pieces over and sprinkle evenly with salt and pepper.
Add mushrooms and onions to skillet, along with additional butter if necessary.
(Note: The original recipe did not call for extra, but I sometimes have to add a tablespoon or two so that the veggies will sauté properly instead of sticking). Cook approximately 10 additional minutes, until chicken is thoroughly done.
Place a slice of cheese on each piece of chicken.
Remove to a platter and cover with foil.
Allow chicken to sit about 5 minutes until cheese melts.
Spoon mushroom mixture over chicken before serving.