Chicken Loaf With Mushroom Sauce
Annacia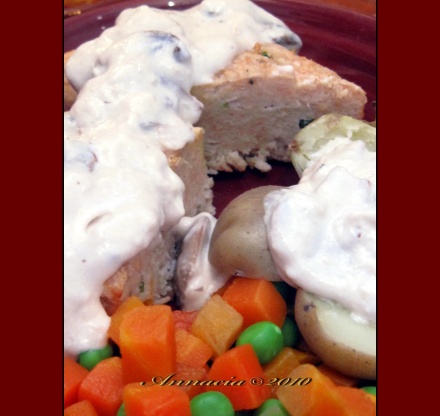 An easy way to use leftover chicken!

I started with ground raw chicken to make this and then followed the given ingredients. I also made this into 4 mini loaves, 2 for now and 2 for the freezer. DH loved it as is but I would have enjoyed a bit more seasoning as I founf it quite bland. I think that some onion, garlic and Italian seasoning would be very beneficial. I split his 5 stars and my 3 for a four star rating.
To make the chicken loaf:.
Beat eggs and add milk. Add remaining loaf ingredients.
Pour into a greased loaf pan. Bake at 350 degrees for 30 minutes.
Unmold loaf, slice, and serve with mushroom sauce.
To make the mushroom sauce:.
Brown mushrooms in butter.
Add flour and blend.
Add milk, broth, salt and nutmeg. Cook until thick.
Add lemon juice to beaten egg yolks. Slowly stir egg mixture into sauce. cook, stirring, about 2 minutes until creamy.